For Healthcare Providers
You Want to Help...
But the needs of people with chronic or life threatening illness are complex and the time you can devote to them is limited.
You've all seen it. One person receives a diagnosis and goes on to live a full life while another languishes, dying within weeks or months. You, in turn, may feel regret or a sense of helplessness. With all of the literature about the relationship between body, mind and spirit, you want to address all of their needs, but have neither the time or resources.
That is where my services can help.
How I Can Help
For 25 years I was a Registered Nurse, working in a variety of fields. In 1982, my life was dramatically changed as I learned to live with the pain and chronic fatigue of "fibromyositis." Then, in the late 90's, I was diagnosed with latex allergy and multiple chemical sensitivity. While certain aspects of my life have significantly changed since those diagnoses, what hasn't changed is that I have a full, productive, joyfull life. I have learned tools to maximize my energy and to develop the unique individual hidden beneath physical limitations.
People in pain,whether spiritual, physical or emotional, often feel invisible. What I offer is not therapy, it is the opportunity to be seen as a fellow human instead of a disease process.
Our society values perfectiion and fortitude, not vulnerability. In our sessions, the client and I sit face to face. I offer the gift of attentive listening. I listen to hopes and to fears. I sit with them as they struggle with unanswerable questions. For that short period of time, the person is seen and validated. Those are healing moments.
Additionally, it is easy to fall into an attitude of victimization when one lives with chronic or life-threatening illness. We may ask, "Why me, God?!" Here at The Soul-Full Path, I offer a safe place where people can ask deep questions as they struggle to learn a new way of being. A healthy way of living life to the fullest, minute by minute, day by day.
Integrating Reiki and spiritual companioning, we seek the path to life. Clients not ready for inner reflection are welcome to simply come for Reiki. Those uncomforatable with Reiki can come and do inner work. The client sets the agenda and the pace of our sessions. Our only goal is to find healing by honoring their unique journey to wholeness and peace.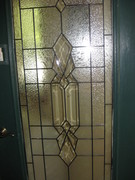 What is hidden behind the door of illness?
I have learned that who we are is not defined by our physical condition. Each of us has gifts to offer the world. So, together we search for gifts waiting to be discovered. We explore ways to manifest those gifts in spite of physical limitations. And finally, we ask,"How does the body's innter knowledge invite an even more fulfilling way of being?"
Cost for an hour is $30. For a combined session with Reiki $40.